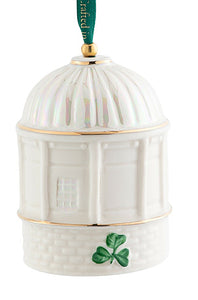 Belleek Pottery Mussenden Temple Annual Ornament #34
The Belleek Annual Christmas Ornament has arrived!  This piece has been inspired by Mussenden Temple which is situated overlooking the Atlantic Ocean between Downhill Demesne and Castlerock in Northern Ireland. This former library was built in 1785 and forms part of the Bishop of Derry and Earl of Bristols Estate. Frederick Augustus Hervey, built this beautiful building as a summer library which as inspired by Roman architecture and named after his beloved cousin, Mrs Frideswide Mussenden.
Around the top there is a Latin inscription which reads, Tis pleasant, safely to behold from shore, the troubled sailor, and hear the tempests roar. Hand painted, mother of pearl lustre has been used for the roof with gold highlights and a lucky shamock on the reverse. Hand crafted at historical Belleek Pottery, Mussenden Temple is the 34th Annual Edition Ornament and will only be available in 2021.