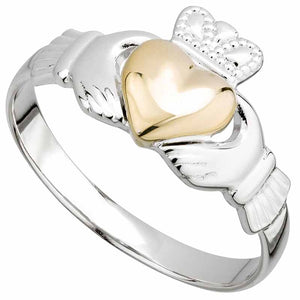 Solvar Sterling Silver Ladies Claddagh Heart 10ct Ring
The Claddagh, Ireland's unique symbol of love, takes its name from a small fishing village overlooking Galway Bay, Ireland.  A man, by the name of Richard Joyce created the Claddagh Symbol using a heart for love, cradled in two hands of friendship, crowned in a promise of loyalty. Today, the Solvar Jewelry Company creates the most traditional Claddagh ring from sterling silver that can be worn daily.  With a comfort fit to this design, this Claddagh ring is our "Best Seller". This ring has a 10ct heart which makes this ring quite unique.  This ring will arrive in a Solvar presentation ring box.
If a size you like is not available at the moment, please allow one additional week for delivery.